Children's Dentistry in San Antonio, TX 78253
Looking for pediatric dentistry in San Antonio? Mysa Dental is a reputed dental clinic in San Antonio, TX, specializing in providing evidence based and top-quality dental care to children in a positive and anxiety free environment. For more than 10 years, our
dentist for kids in San Antonio
has been offering kids, infants and adolescents innovative and compassionate dental care they deserve. As a pioneer in the realm of pediatric dentistry in San Antonio, we create a friendly, relaxed and anxiety free environment for your kids.
Best Pediatric Dentist in San Antonio
As a well-established children's dental in San Antonio, we are trusted by parents and children in equal measures for the best dental care. As a leading San Antonio dental clinic, we offer the convenience of having your needs catered to, under one roof. Our experts of children's dentistry in San Antonio recommend the first routine check-up as soon as your child turns 3. The first trip may need few or no procedures at all and we evaluate your child's oral health. Children dentistry services offered by Mysa Dental are as under:
Evaluation of your child's oral health.
Checking bad habits and providing necessary help and treatment.
Dental trauma treatment.
Full mouth dental imaging
Cavities and decay treatment.
All other pediatric services.
What to Expect at Your Child's First Dental Appointment at Mysa?
At Mysa, we spend a considerable amount of time talking to you about your child's health. We also ask quite a few questions to identify any problems such as decay, cavities. We encourage parents to discuss about their child's bad habits such as bad cleaning habits, thumb-sucking or bad food habits.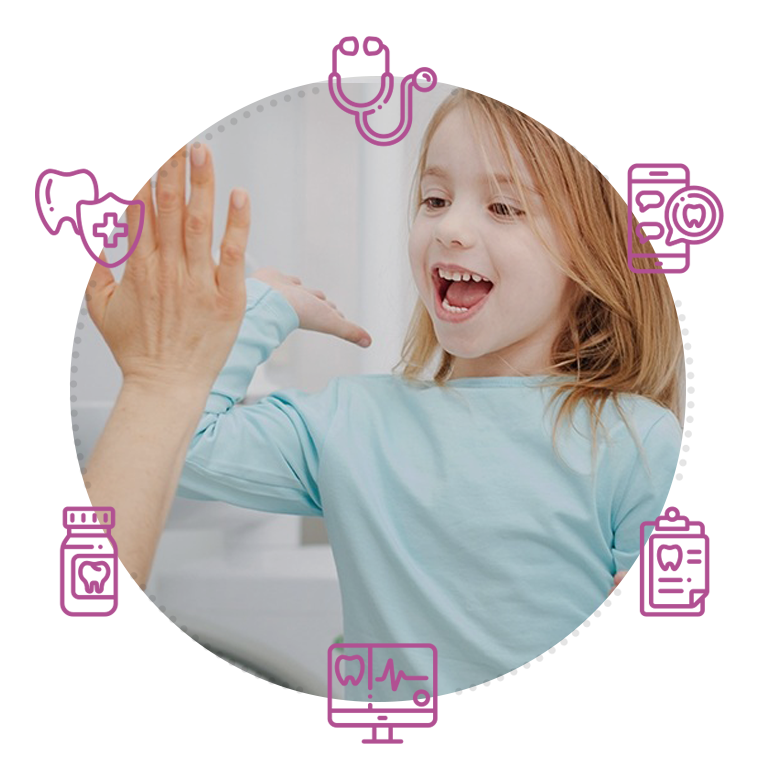 What Children's Dentistry

Services We Offer?
Sports mouth-guards

Fissure sealing

White fillings

Root canal

Tooth extraction
It was really amazing to have a pediatric dentist in San Antonio who is so amazing with my kids. Being a father yourself you know what it means to have people be good to your children. They are certainly the best experts of children's dentistry in San Antonio.
- Kyle Rogers
For over 7 years, you have taken great care of my boy's teeth. Dr. Khushbu Malhotra has an upbeat and composed demeanor and we highly appreciate the entire staff. Mysa Dental is undoubtedly the most recommended children's dental in San Antonio, TX.
- Walter Gutierrez
Mysa Dental has the most professional dentists for kids In San Antonio, TX Thanks for being so amazing!
- Harold Ortiz