Sleep Apnea Treatment in San Antonio, TX 78253
At Mysa Dental Clinic, our orthodontists use the Eccovision Acoustic Diagnostic Pharnygometer and Rhinometer to extract key information about airway size and stability. Our pool of orthodontists uses these versatile titrating oral appliances to cure sleep apnea.
We leverage pharyngometer to screen sleep apnea patients with the highest level of accuracy possible. It helps determine how the airway responds to mandibular advancement. The Eccovision device is commonly used in ENT and sleep disorders dentistry practices. As a leading sleep apnea treatment practice in San Antonio, we make the most of this device to establish the difference in the airway's health before, during and after the treatment is over.
Our orthodontists in San Antonio, TX use rhinometer to evaluate nasal patency. This device used acoustic reflection technology to gather key pieces of information. it is a vital part of our dentistry practice. It is also widely used by ENT and pulmonary physicians to screen patients suffering from allergies, deviated septum, nasal resistance, hypertrophied turbinates, and nasal polyps. Any sort of upper airway obstruction or resistance can also be screened using this equipment.
Sleep apnea is a serious disorder in which breath stops and starts repeatedly. There are three types of sleep apnea.
Obstructive sleep apnea
Central sleep apnea
Complex sleep apnea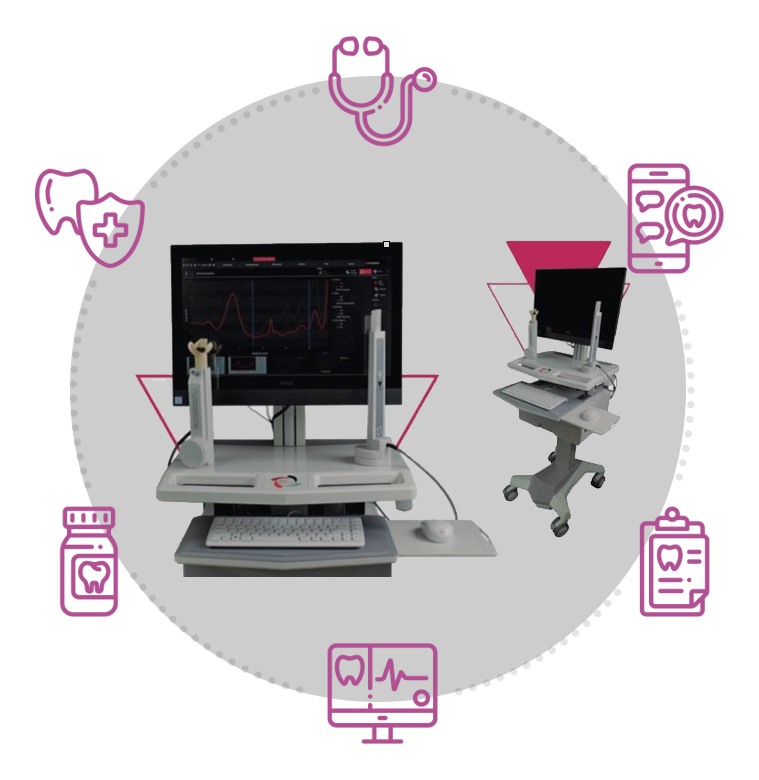 What Are the

Symptoms of Sleep Apnea?
Obstructive Sleep Apnea (OSA)
This is the most common type of sleep apnea which occurs when throat muscles relax.
Waking up with sore throat or dry mouth
Central Sleep Apnea
Central sleep apnea occurs when the brain fails to send proper signals to the muscles controlling breathing.
Waking up with sore throat or dry mouth
Complex Sleep Apnea
Also known as treatment-emergent central sleep apnea, this sleep apnea occurs when the patient has both obstructive and central sleep apnea.
Waking up with sore throat or dry mouth
Frequently Asked

Questions
1.

Who suffers from Sleep Apnea?
People of any age and gender can suffer from sleep apnea; however, obese and old people often suffer from sleep apnea. This condition can worsen as you age or gain more weight and hence visiting a sleep apnea expert in early stages is highly recommended.
3.

What are the risk factors and how do I get treated for sleep apnea?
Since normal breathing get interrupted in sleep apnea, your vital organs get deprived of oxygen and it could lead to several other problems including high blood pressure, type 2 diabetes, heart disease, and weight gain. At Mysa Dental we offer oral appliance therapy to patients suffering from sleep apnea.
Dr. Sumeet Malhotra is a professional and courteous dentist. He is certainly the best dentist in San Antonio, TX.
- Richard Lopez
The quality of my life deteriorated due to snoring and sleep apnea and I approached Mysa Dental. They explained me the condition and chalked out a personalized treatment plan.
- Joseph Gonzales
Thanks to Dr. Khushbu Malhotra who helped me get rid of sleep apnea with quality treatment. Thanks for being so great to me.
- Thomas Wilson