Top 4 Reasons You Need to Visit a General Dentist Regularly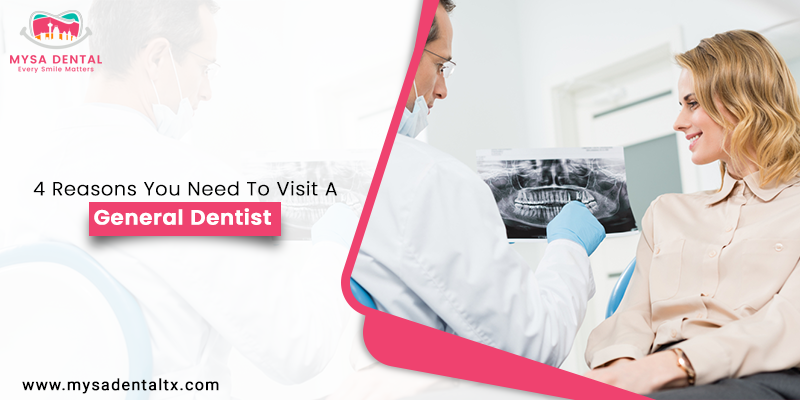 Preventive care and oral health check-up must be an integral part of your dental regime. It is advised to see a general dentist every 6 months to make sure your dental health remains in optimum shape at all times; however, truth to be told, more often than not people ignore their dental health and fail to see a general dentist unless they experience intense pain or any other dental issue.
In this post, we will share the top 4 reasons you must see a general dentist at least twice a year.
1. A thorough examination of your mouth
A general dentist performs a comprehensive evaluation of your mouth every time you pay a visit. Additional tests such as X-rays are also taken which helps find out any underlying dental issues if needed.
You must note that not all dental issues have prominent symptoms and you may not realize their development until they become severe.
When you visit a dentist every 6 months, your dentist evaluates your dental health comprehensively which helps to treat such issues in the early stages. Treating these issues in the early stages is cheaper and can be easily reversed. A general dentist in San Antonio, TX says that an example of this is tooth decay. In the early stages, tooth decay can be treated with fillings and it is cheaper to prevent further damage.
2. Restorative treatments can be performed
General dentist in San Antonio also suggests routine check-ups because even restorative treatments can be performed during routine check-ups. More often than not restorative treatments can be performed during the first visit and you do not need the second visit. In certain cases, the patient might need to see the dentist again.
3.Cosmetic procedures can be performed
Cosmetic treatments such as teeth whitening can be performed during your routine check-up. Your dentist will also provide you with the best tips to keep your dental health in the best shape. If you need orthodontic treatment such as braces or Invisalign, your dentist will advise you accordingly. In other words, you can get all of these services under one roof rather than going to different experts for each of them.
4. Keep your bright smile intact
You need to take the best care of your oral health to keep that million-dollar bright smile. From fixing decays to gum disease treatment, your dental care requires comprehensive and professional care which is why you should visit a general dentist at least twice a year.
Hope the post made for a good read. For more information related to a dentist in San Antonio, TX feel free to get in touch with us.