Why Shouldn't Cavities be Taken for Granted?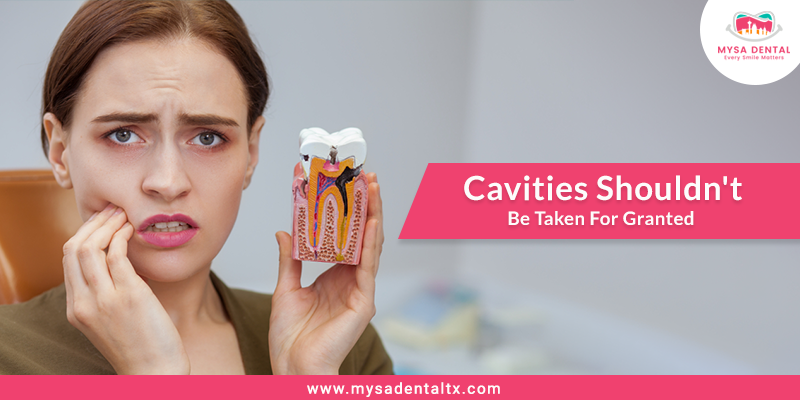 The perils of leaving cavities untreated have been reminded time and again by dental health experts. Cavities are horrendous, even more so when you get to chew something. For one thing, cavities lead to toothache. And for another, cavities cause long-standing dental problems, right from tooth decay to gum infections. Get in touch with prominent dentists in San Antonio if you wish to put an end to this menace.
Remember, cavities are not to be taken for granted.
Children, in particular, have this habit of taking cavities for granted. There are times when they might not inform their parents of the pain they're going through. Well, hesitation, coupled with the consequent delay in getting cavities treated, is what ends up complicating the situation by leaps and bounds.
Here are why cavities should never be taken for granted:
Cavities Tend to Intensify
Here's the thing: cavities tend to intensify if left untreated. At first, most cavities are brown in colour. This colour would change to black after the cavity has intensified. It is important to note that a cavity can be treated quite effortlessly if it is in its infancy. However, the procedure would get complicated if you do not get them treated as soon as possible. Get in touch with the best pediatric dentist in San Antonio if your children are facing similar problems.
The Pain Caused Would Multiply
It is this pain that ends up complicating the matter. The pain that gets concocted alongside a cavity is a formidable force, to say the least. It is powerful enough to derail your child's normal life. If you've gone through the ordeal at some point in your life, then you will be well aware of the discomfort that tends to accompany the pain. Chewing your favorite food would become a daunting task, and this is just the beginning.
Cavities Lead to Tooth Decay
This part is the final nail in the coffin. Cavities would lead to tooth decay. Consequently, your gums would be exposed to several harmful bacteria (in the absence of teeth). Now, this is quite a precarious situation, isn't it? Smokers would be well aware of the long-standing gum problems that tend to make inroads into a person's life in the absence of teeth. A healthy set of teeth does hold a lot of significance, no matter how insignificant it might appear to the naked eye.
Get in touch with a dental professional practicing pediatric dentistry in San Antonio to get things sorted.
Read more: – Top 4 Reasons You Must See a pediatrician
Cavities can cause long-term complications, which is a good enough reason for you to get them treated as soon as possible. The worst thing about cavities is not the pain they cause but the irreversible deterioration that tends to accompany the pain. Get in touch with the best pediatric dentist in San Antonio if your children happen to be suffering from cavities (and other dental problems)